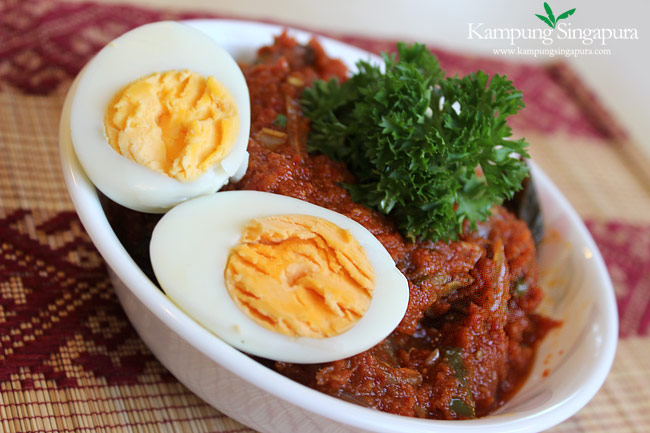 View Recipe Details Below

'Ikan Bilis sambal' is anchovy sambal. It is a traditional Singaporean/Malaysian home dish. Anchovies for some reason are not very well-liked in Australia. I remember going to work one day with fried anchovies and the moment I opened my lunch box, my colleagues literally ran away. Some covered their noses. I was so shocked! How could anyone NOT like anchovy was what kept running through my mind. I then realised it was because they were not used to it just like how I am not used to pork and beef. At the same time, many of my friends were amused that anchovies can be cooked in several other ways. So I made my sambal for a bunch of them to change their mindsets and, it did capture a place in their hearts.

'Ikan Bilis Sambal is also one of the main features of the famous 'Nasi Lemak' for which I will be posting the recipe soon. As you may have observed, many of my dishes consist of sambal paste. It is probably in the genes as from both my parents' sides, all of us are equally crazy about sambal. My father's sisters and my mum's sister are so good at making the sambal. I learnt mine from all of them. I picked the elements I liked in each of their sambals and combined to create my own recipe. It is a hit with my friends here so I hope you like it too.

Ikan Bilis Sambal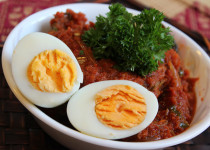 Prep Time:

25 minutes

Cook time:

30 minutes

Yield:

6 - 8

Rating:
Ingredients:
Instructions:
Boil the dry chillies in hot water till it appears al-dente.
Once boiled, strain and remove any remaining seeds.
Wash the uncooked anchovies cleanly till the water runs a bit clear.
Throw in the chillies, onions, garlic, ginger, tomatoes and toasted belacan into a blender with the measured amount of water and blend till fine.
To make the tamarind juice, take 1 lemon-sized ball of tamarind, mix it with boiled water to extract the juice only. The seeds can be discarded.
Heat a wok (trust me cooking sambal in a wok is better than using a saucepan) with the oil.
Once the oil starts spluttering, add the sliced shallots and stir fry till it turns golden in colour.
Add the ginger/garlic paste and stir fry till the raw smell disappears.
Throw in the washed, uncooked anchovies and stir fry it with the onions and ginger/garlic paste for about 2 - 3 minutes.
Add in the blended sambal paste, tamarind juice and salt to taste. Be careful not to add too much salt as the anchovies are salty. Go with less salt first and when the sambal is cooked, you can add more if its not enough.
Let the sambal cook covered for 30 minutes on medium heat, stirring occassionally to ensure it does not burn.
5 minutes before you take the sambal off the stove, add the ketcap manis. If you like the sambal to be spicy, then add a tad bit of the ketcap manis. If you like it sweeter, then add more. It is up to individual preference. My husband and I like it spicier but our friends prefer a sweeter taste.
Tips
* Anchovies
For my sambal, you would have observed that I add the uncooked anchovies into the oil and stir fry it before adding the sambal in. This is because the juice from the anchovies get released into the sambal and gives it a rich flavoursome taste. However, not everyone enjoys it this way. Back home, only my dad enjoys it this way because my paternal side aunts and grandmother cook it this way. On the other hand, on my maternal side, my aunt and grandmother prefer to fry the anchovies separately first so that its crunchy and add them in once the sambal is cooked. I was only used to the fried style but over time, with acquired taste, I started liking this one better.
* Tamarind Juice
Be careful with the brand of tamarind that you use as some can be really sour. I have tried using several brands but my all time favourite is the Orchid Brand. It gives the best taste and is also very good in quality.