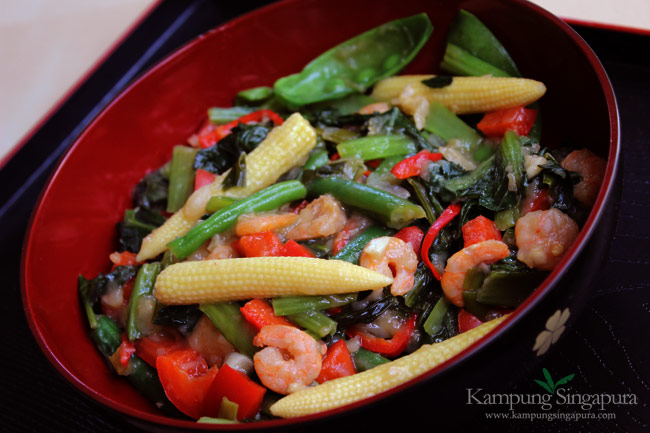 View Recipe Details Below

One of the best things of being born and bred in a multi-racial country such as Singapore is the fact that you learn to appreciate the diversity in food and culture. Over time, we do not see ourselves as Chinese, Indians or Malays-just Singaporeans and so even if it is a food with Chinese/Malay/Indian ancestry, ask any Singaporean and he/she will say that it is a Singaporean dish.'Chap Choi' is one such dish. It is mixed vegetable stir fry and is a very popular dish in Singapore served usually in seafood eateries. It is also my most favoured vegetable dish. It has a variety of vegetables in it each with its unique taste and is cooked with chicken/vegetable stock and thickened with corn flour. It has a distinctive taste which stays on the tongue for hours even after you finish eating. There is this seafood stall near my place in Bukit Batok just across my block. On the day I land in Singapore each time, my family members never bother cooking because they know I will rush down to the stall to get my 'yong chao' fried rice, 'hokkien noodles' and this 'chap choi'. It has become a habit now which I will not trade for anything in the world. That's how good the food is there.
This recipe I have is yet again another one of my creations. I was trying hard to get the perfect recipe for years and finally succeeded. I really struggled with this one I have to admit. Of course being an amateur cook in my early years here, I never bothered thinking about the small nuances in the dish. To me, I always thought 'chap choi' was made by mixing all the possible vegetables together with a bit of salt and water. Of course, as I progressed further in cooking, my learning curve sharpened and I realized there are the two big secret ingredients called 'chicken stock' and 'corn flour'  which give 'chap choi' the 'oomph' taste. Once I learnt of these subtleties in the dish, I went *bang* so easy! Hehehe

Anyway, alright I think you would have had enough of my wackiness today. I hope you enjoy this 'chap choi' as much as I do in cooking and eating it.

Chap Choi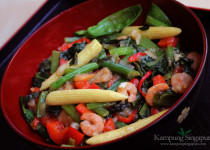 Prep Time:

10 minutes

Cook time:

7 minutes

Yield:

2-4

Rating:
Ingredients:
Instructions:
Heat a medium sized frying pan with the measured amount of canola cooking oil.
Add in the spring onions, crushed garlic and sliced ginger pieces and saute till the raw smell disappears.
Add in the soy sauce and the chicken stock with 10 ml water. I prefer the chicken stock powder to the liquid stock anytime. The powder gives a better taste.
Throw in all the vegetables, red chillies, the prawns and cook on medium heat for 2-3 minutes.
Once you see the choy sum having wilted and the rest of the vegetables and prawns cooked, add in the corn flour mixture. Stir to mix well.
Before dishing the 'chap choi' out, add in sesame oil and give it one last stir. Be careful with the sesame oil as it has a tendency to release a strong smell when used too much.
'Chap Choi' all yours to be eaten :-)
* For vegetarians, fret not, you can always achieve the same taste by replacing the chicken stock with vegetable stock. :-) Knorr is the best brand for both chicken and vegetable stock.