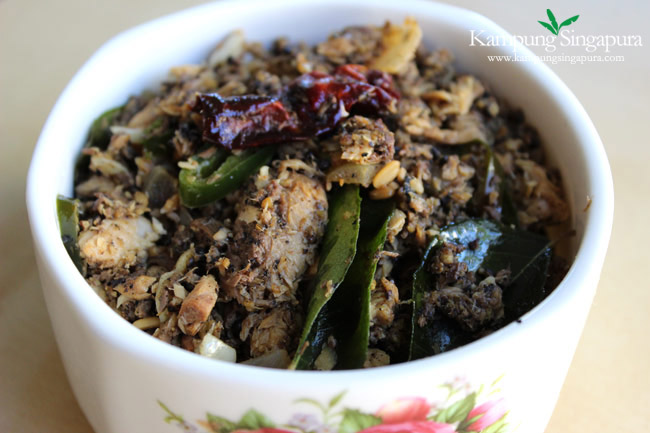 This Fried Sardine recipe is my lovely mother's recipe. She makes it even better than me. She usually makes it with 'sothi' the Indian coconut stew. I made 'Sayur Lodeh' a few days back for which I posted the recipe earlier. Since it tastes similar to 'sothi', I decided to make this stir fry as an accompaniment dish. I just love having this on days when it is really cold and since it has been raining and we are entering winter, this was a perfect dish to have. It is really spicy so if you are fan of spicy dishes, this one's for you.
Before you start reading the recipe, I would love to share a hilarious story of my mum's fascination with sardines. When my parents were newly married, on the first day after marriage, my mother tried to impress my father through her cooking skills. The dish she cooked was the fried sardine recipe. My father indeed was impressed. The next day, he waited for another new dish she was going to cook for him. Yet again, it was the sardine. He was a bit dejected but thought maybe there was nothing else at home for my mum to cook with. This kept happening for a whole month. Then it hit my dad that my mum only knew how to cook sardine and nothing else! Poor man…you can imagine the shock on his face when this huge realisation hit him-a pure meat eater. Rest assured, my mother has tremendously improved on her cooking skills and my sisters and I will vouch for that.

Anyway, she has to pass on her sardine legacy right? And she has to me. So I can tell you that I am an expert on any kind of sardine dish and this black pepper stir fry happens to be one of it.
Hope you enjoyed my story and Mum's probably going to kill me if she reads this. Hehehe sorry amma but you torturing appa with your cooking always sends me into fits of giggles!

Black Pepper Sardine Stir Fry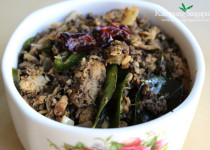 Prep Time:

10 minutes

Cook time:

10 minutes

Yield:

2-4

Rating:
Ingredients:
Instructions:
Roast the black peppercorns and cumin seeds lightly and pound finely.
Heat a frying pan with measured amount of cooking oil.
Add the items to temper according to the order of ingredients. Wait for the mustard seeds to splutter fully before adding all other ingredients.
Once chopped shallots turn golden brown in colour, add ginger/garlic paste and saute till the raw smell disappears.
Add the sardine (only the sardine without the tomato sauce), salt according to your taste and cook it for 2 minutes.
To finish, throw in the pounded black pepper/cumin seeds powder and give the sardine dish one stir.
Black Pepper Stir Fry ready! :-)