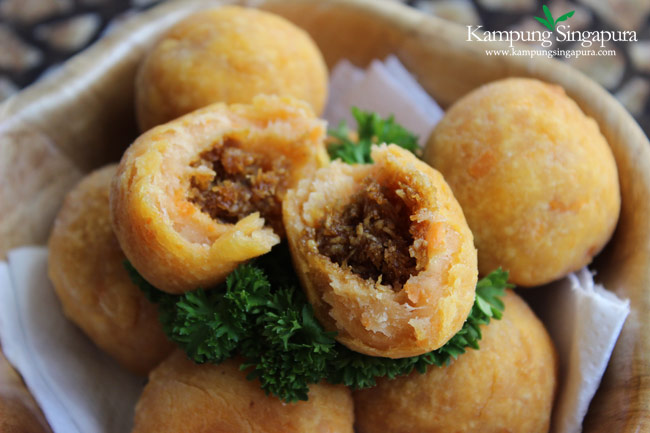 Oh the goodness of teatime snacks!

I have so many snacks at the top of my head and am so excited to cook them all. Alas, time is always an issue. Eventually I will get there and will most definitely share the beautiful recipes with you all my dear readers. For today, I am going to share with you the recipe for 'Sweet Potato Coconut Balls'. I made these over the weekend. It is yet again another wonderful Nonya Kueh and is a super duper hit with many Singaporeans. However, I have heard my friends saying that its hard to come by this particular savory dish these days in Singapore.
We met up with a couple of friends on Sunday and they belonging to the Baby Boomer generation, started reminiscing the good old days in Singapore. They shared stories of vendors going around the neighbourhoods in their 'rickshaws'Äô ( 2-wheeled passenger carts) selling these sweet potato balls. Hearing them recall their cherished memories gave me a very nostalgic feeling. Nothing can beat the good old days! Anyway, do try this¬†Sweet Potato Coconut Balls with its crunchiness from the ball and the oozing goodness of the coconut/palm sugar filling.
Deep Fried Sweet Potato Balls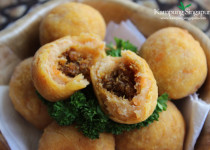 Prep Time:

20 minutes

Cook time:

15 minutes

Yield:

15 balls

Rating:
Ingredients:
Instructions:
In a mixing bowl, knead together the mashed sweet potatoes, plain flour, corn flour, hot water and salt to form a nice elastic textured dough. It should not be too stiff. Otherwise, your sweet potato balls will turn hard once fried. You want to maintain its softness.
Roll the dough into small balls and let it rest while you get ready to make the syrup.
Fill a saucepan with the measured amount of water and gula melaka. Let the syrup cook till you get a one thread consistency.
Add the dessicated coconut and mix thoroughly.
It is good to add the filling in the balls while it is still warm and fresh. So taking each ball, create a well in the middle and place 1tsp of filling.
Once done, seal the ends together and reshape it back if it has lost its ball shape.
Using either a deep fryer or a heavy bottomed deep frying pan, fry the sweet potato balls.
And now time to 'nom nom nom' the savory! :-)