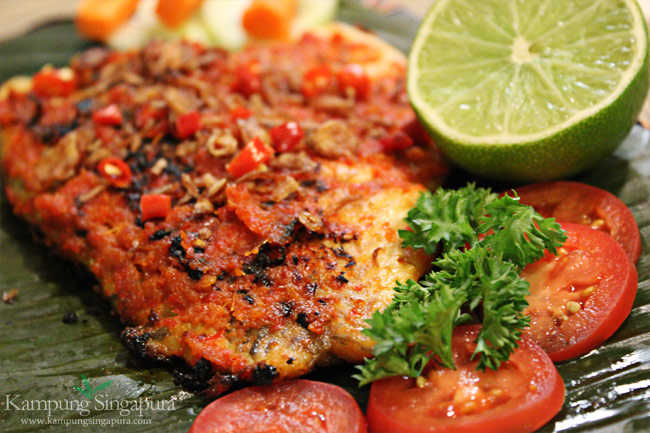 'Ikan Bakar' means 'Burnt Fish' literally in Malay. It refers to fish and any other form of seafood seasoned with spices and sambal belacan paste and  placed on banana leaves to be grilled over the bbq or a hot plate. The juice from the sambal combined with the banana leaves' essence infuse the fish and gives it an amazing taste. It is just so heavenly!Oooh lala feeling!

The most common seafood used for this dish is the stingray but I prefer the barramundi or red snapper. It tastes just as good or in some instances better than the stingray.
'Ikan Bakar' is a family favourite especially on my dad's side. My cousins and I love pigging out at seafood places in Singapore, the most common being at East Coast Park. It has been many years since I had a good seafood meal with my cousins. I sort of started to miss them and so made this dish to reminisce the good old days. The recipe I have for the sambal belacan is from Bee, the blog owner of Rasa Malaysia. This recipe is by far the best one as the sambal tastes very similar to the one used back home for 'ikan bakar'. However, I have modified it slightly especially the portion of lemongrass. When used too much, the lemongrass can be overpowering so I have reduced it substantially. Do try the recipe and let me know how you go.

Ikan Bakar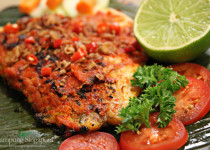 Prep Time:

20 minutes

Cook time:

20 minutes

Yield:

2-4

Rating:
Ingredients:
Instructions:
Wash the barramundi fillet cleanly, coat it with turmeric powder and let it rest for 15 minutes to remove any odour from the fish.
Meanwhile, place the red chillies, shallots, belacan and lemongrass in a blender with little water and grind till you get a fine paste. You should be looking for a thick and not a watery paste.
Heat a frying pan with the measured amount of oil and add the sambal paste in.
Add in the salt, fish sauce, sugar and lime juice and mix well.
'Tumis' (stir) the sambal paste to  evenly coat it with the oil and let it cook on low-medium heat for 10 minutes.
While sambal is cooking, wash the turmeric off the barramundi.
Once sambal has cooked, spread the paste evenly on both sides of the washed barramundi fillet and place it on one of the banana leaves.
Spread the sliced chilli padi over the top of the barramundi fillet. Use the other banana leaf to cover the top and seal it on the ends with the bamboo skewers.
Place the ikan bakar parcel on either a hot griddle or bbq and grill for approximately 6 to 8 minutes. I actually used my huge 'dosa' (indian pancake) pan and it worked perfectly. Remember to turn the parcel over to allow even cooking on both sides.
And now, get your taste buds ready for the sizzling hot Ikan Bakar! ;-)