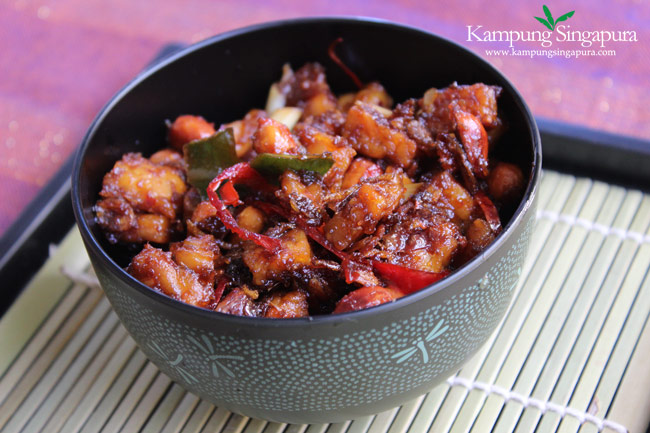 View Recipe Details Below

'Tempeh' is  fermented soy product originally from Java. It is made out of whole soy beans soaked overnight, dehulled and cooked partially (Source: Wikipedia). It looks like a mini cake slightly brown in colour. Vegetarians often use it as a meat alternative. My mum cooks mostly vegetarian dishes at home and 'tempeh' is always on the list. She usually coats it with spice powders and fries it. It is also not something that kids usually eat because of its 'unique' taste. I have to be kind and use the term unique to describe the taste. I guess the fermentation process contributes to that taste. However, when cooked the right way, it can be incredibly delicious. The 'Kering Tempeh' is one example.
'Kering Tempeh' refers to dry, sweet and crunchy tempeh. It is originally an Indonesian dish and has been adapted by the Singaporean Malays. It is usually a common option in a traditional Malay bento meal found usually in food courts. In my final year of high school, there was this new stall and the Malay auntie cooked the best 'kering tempeh' and it was always on my lunch menu. From Monday to Friday, I always had the same ketchup chicken with this 'kering tempeh' and 'chap choi'. My friends used to tease me mercilessly but you'll know why I love this dish so much after trying out the recipe. I made it over the weekend along with the 'asam pedas' and 'chap choi' for which I posted the recipes earlier. My husband feasted on it and could not stop eating it! The recipe I used is an adaptation from Janet De Neefe's book Fragrant Rice. She is a renowned Australian chef who married a Balinese and settled down in Bali. I bought her book before our Bali trip this year to get acquainted with the Balinese culture. It is a wonderful read and her recipes are simply mind blowing.

Vegetarian Kering Tempeh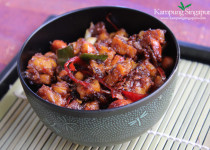 Prep Time:

10 minutes

Cook time:

20 minutes

Yield:

2-4

Rating:
Ingredients:
Instructions:
Grind all the ingredients for the spice paste in a blender with little water. It should not be watery.
Fry the ingredients for deep frying.
Heat a pan with measured amount of canola cooking oil.
Throw in the lemongrass and shredded lime leaves.
Add the spice paste along with the tamarind juice extract and cook on low heat till the oil separates and surfaces on top.
Add salt, measured amounts of ketcap manis and gula melaka.  Cook till you see the mixture thickening into a syrup. This should take approximately 3-4 minutes depending on the heat.
Add all the fried ingredients including the fried shallots in making sure everything is coated with the syrup sauce.
Voila! 'Kering tempeh' waiting to be relished. ;-)