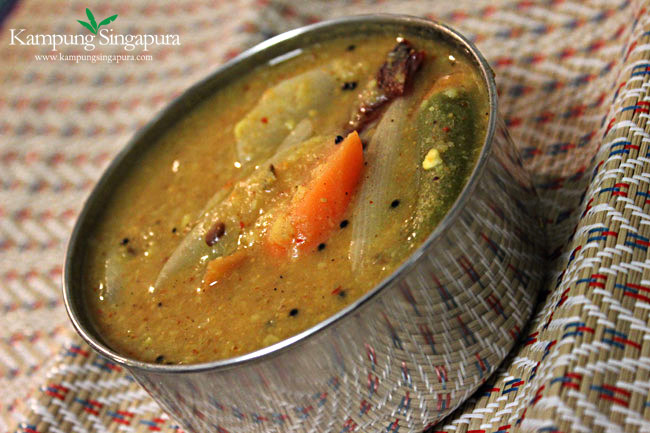 View Recipe Details Below

I have been cooking local Singaporean delights all this while and I was starting to crave for some traditional South Indian vegetarian dishes. So I decided to cook this 'Tiffin Sambar'. 'Tiffin sambar' is usually served in South Indian restaurants in Singapore, Malaysia and Chennai. It is  lentil stew with mixed vegetables and slightly more watery compared to the traditional dhal. I love the one that is served in temples. I used to go without eating the whole day every time my parents said there was going to be a temple event in the evening. Once we are in the temple, the priests would be catering to the deities and my sisters and I would impatiently wait for the food. Sorry my beloved Muruga!


No food in this world can match up to the food served in a temple or any place of worship for that matter. For some reason, the food tastes better and you leave as a very satisfied devotee.
The food is vegetarian of course in Hindu temples and trust me you will never feel the urge to have meat for the vegetarian dishes simply  take your breath away. So I hope this tiffin sambar does the same for you.

The sambar powder recipe I have is from Nags, the owner of food blog Edible Garden. She is a brilliant cook and food photographer. I have tried several dishes of hers and they have turned out incredibly well. The secret to the 'tiffin sambar' lies in the sambar powder. I used to make sambar using Baba's readymade powder (not that it is not good) but if you want the real authentic taste, then my suggestion is to make the powder from scratch. It is totally worth it! So here goes…

Tiffin Sambar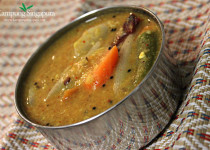 Prep Time:

20 minutes

Cook time:

30 minutes

Yield:

4-6

Rating:
Ingredients:
For Sambar Powder
Dried Chillies -

10

Coriander Seeds -

2 tbsp

Black Peppercorns -

1/3 tsp

Fenugreek Seeds -

1/4 tsp

Cumin Seeds -

1/2 tsp

Oil -

1 tsp

For Tempering
Mustard Seeds -

1 tsp

Urad Dhal -

1 tsp

Curry Leaves -

1 sprig

Dried Chillies -

2 pieces, cut into halves

Shallots (Small red onions) -

2, sliced thinly

Asafoetida -

2 tsp

For Gravy
Hot water -

1 litre

Mung Dhal -

1 cup, washed thoroughly

Peeled Garlic -

3 cloves, halved

Green Chillies -

2, halved and deseeded if you do not want it spicy

French Beans -

1/2 cup, cut into halves

Snow Peas -

1/2 cup

Large Potato -

1, quartered

Radish -

1/2, sliced thinly

Carrots -

1, sliced thinly

Tomatoes -

2, quartered

Tamarind -

1/2 tsp mixed with 10 ml water and juice extracted

Salt -

To taste

Sambar Powder -

3 tbsp

Ghee -

1 tbsp
Instructions:
To make the Sambar Powder:
Heat a kadai (indian fry pan) with the measured amount of oil and roast the coriander seeds till it turns slightly brown in colour.
Add the rest of the ingredients and continue roasting on low heat. Be very careful not to burn as you can have a bitter sambar powder which is NOT what you want.
Once the ingredients are nicely browned, remove and place on a plate to cool completely.
Grind the cooled roasted ingredients together to form a smooth powder.
To make the Tiffin Sambar:
Wash mung dhal thoroughly till the water run clears.
Fill a large saucepan with 1 litre of hot water and boil the mung dhal on medium heat for 20 - 30 minutes till it is full cooked. Halfway through the cooking, you will notice white foam appearing on the corners of the pan. Remove them with a ladle.
Add the turmeric powder, garlic cloves, green chillies and salt the same time you start boiling the mung dhal.
Once the dhal is cooked, add all the vegetables in. Do not add the vegetables before the dhal is cooked as it stops the cooking process of the dhal.
Add in 3tbsp of the ground sambar powder and stir well to make sure it is fully dissolved. Store the rest of the powder for future use in an airtight container.
Add in the tamarind extract and cook for another 3 minutes.
Remove the stew from the stove.
Heat a small fry pan with the ghee and temper the ingredients under tempering in the respective order. Let the mustard seeds splutter first before adding the rest of the ingredients.
Pour the tempered ingredients into the stew and 'Tiffin Sambar' ready to be served with rice and accompaniments. :-)