View Recipe Details Below

This Stir Fried Eggplant in Mango Chutney is a traditional Sinhalese dish. Hasan and I have a very sweet couple as one of our closest and dearest friends here; Irane and Dilini. Our first experience with Sri Lankan food began from their home. The Sri Lankans use of spices is very similar to us Indians. However, the taste of their curries and vegetable dishes are significantly different. I get amazed each time Dilini shares a recipe which calls for the same ingredients but the taste is just unique. Not being biased but I have to say I have started liking Sri Lankan cuisine a tad more than our Indian food.

This is probably because Dilini is an exceptionally fantastic cook and her food's to die for! Hasan and I look forward to going to her place because each time she'll have a wide array of food lined up for us and each dish made with so much love. From the presentation to the taste, she is very meticulous in the attention she gives to the food. Irane is one lucky man!

This fried eggplant in mango chutney dish is my personal favourite from all her foods. Her mum made it for my bangle ceremony on the eve of my wedding and it was a big hit with all my friends who turned up and many asked for the recipe. I managed to grab it from Dilini and hope you like it too. I can never cook it as perfectly as her and her mother but it definitely tastes very similar. Meanwhile, if you would like to try some of the Sri Lankan's other traditional food, do try Peter Kuruvita's recipes. He is an Australian chef with Sri Lankan origin and I used to catch his programmes on SBS. I have tried many of his recipes. Trust me, they are simply awesome!

Eggplant stir fried in Mango Chutney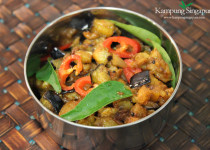 Prep Time:

10 minutes

Cook time:

15 minutes

Yield:

2-4

Rating:
Ingredients:
Instructions:
Marinate the diced eggplant pieces with the spice powders and deep fry them.
Heat a  frying pan with the measured amount of canola cooking oil.
Add the ingredients under tempering according to the order in which they are placed. Wait for the mustard seeds to splutter first before adding the rest.
Throw in the fried eggplant pieces.
Stir in the mango chutney and stir to mix well. Adjust the sweetness according to taste.
Eggplant ready to be served :-)