Hi everyone!

How has your week been so far? I am sure many of us have already started looking forward to weekend. So here's a recipe for a traditional Malay delicacy 'Jemput Jemput' or otherwise known as 'banana fritters' to keep you going till TGIF.

It is relatively easy to make and does not take much time. I made these on Monday afternoon. Hasan came back home exhausted and hungry so I had to quickly think of an idea to satiate his hunger. I saw some ripened bananas in my fruit basket so thought of making fritters. Back home in Singapore, mother bear always made 'jemput jemput' on Sunday evenings. My sisters and I would sit in a circle gobbling these scrumptious little things devouring the goodness with every piece. Mum would make plenty to go by but they just are never enough. Same thing with Hasan on Monday. I made sixteen but only got to have two. Hehe! Anyway a little bit of information on 'Jemput Jemput'. As you would have observed, many Singaporean dishes are heavily influenced by the Malay culture and naturally so because we are situated on the Malay archipelago. 'Jemput Jemput' originated from Indonesia and is popularly known as 'Cokodok' over there. It is usually made using ripened bananas mashed and mixed with flour, water and sugar and thereafter deep fried. There are variations to the recipe. My mum uses self-raising flour and baking soda to make the fritters puff up. She also uses orange sugar instead of the normal raw or white sugar. This is to give the fritters a nice orange colour inside. It is very hard to find orange sugar on the coast so I usually bring it from Singapore and store it in an air tight container. You can of course substitute and use normal sugar. This recipe I have provided is based on my mum's so I can guarantee it is foolproof.

Try making the fritters and let me know how you go!

Jemput Jemput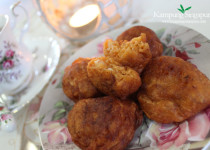 Prep Time:

7 minutes

Cook time:

5 minutes

Yield:

16

Rating:
Ingredients:
Instructions:
1. Mash the ripened bananas.
2. Add in the self raising flour, baking soda, orange sugar, salt and water. Stir thoroughly till you get a fluffy batter which is not too thick or thin.
3. Heat the oil in a medium sized vessel.
4. Scoop spoonfuls of batter into the oil and fry till golden brown on both sides.
5. Remove fritters from oil, drain them on paper hand towels and start digging into them!