View Recipe Details Below

Hello everyone!:-) It feels good to be back after a one year hiatus. I apologise for not posting for that long as I was focusing on my Uni work. With another year left with my PhD, it has been quite a journey. Anyway, to kickstart the blog again, I made 'epok epok' for teatime yesterday. 'Epok epok' is a Malay word for curry puff. It looks very much like the Spanish 'Empanada'. It is a common breakfast and tea time snack in Singapore, Malaysia and Indonesia. Of course it has always been a personal favourite snack of mine. During my high school days, there was this Indian Muslim 'mamak' store in one of the nearby blocks in Chua Chu Kang. Every day, my good friend Aishah and I would alight from the bus and head straight to the stall at 6.30am to grab the 'epok epok'. We were often spoilt for choice as there would be many types with variations in the filling. The two popular options are curry chicken with potatoes and sardine. I have always preferred the curry chicken with potato, hence this filling recipe. The credit for the recipe goes to my paternal aunt who is a great cook. I have learnt how to make samosas, curry puffs and pizzas from her. Lets just say she is an expert when it comes to tea time snacks and I can promise you that you will love this filling even on its own!

Ok before you start scrolling further to view the recipe, a couple of confessions! Teehee.

I have to admit that I did not make the pastry from scratch. I used the ready made puff pastry that we can get from the supermarkets here. It is of course more authentic to make our own pastry. Due to time constraint yesterday, I played cheat.

I also used a curry puff mould because I am not yet an expert with the pleating of the pastry. Also with the mould, you get uniformly shaped curry puffs that look good on the plate.

Epok Epok Chicken Curry Puff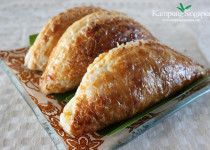 'Epok epok' is a Malay word for curry puff. It looks like the Spanish 'Empanada' but it tastes nothing like it. It is a common breakfast and teatime snack in Singapore, Malaysia and Indonesia.
Prep Time:

15 minutes

Cook time:

20 minutes

Yield:

10

Rating:
Ingredients:
Instructions:
1. Heat oil in a medium sized saucepan.
2. Add the cinnamon stick, cardamoms, cloves and star anise.
3. Once the aroma from the spices waft through, add the chopped onions and coriander leaves. Stir fry till onion is golden in colour.
4. Add ginger/garlic paste and cook till the raw smell is gone.
5. Add all the powders and salt to taste. Sauté for 30 seconds on low heat. Make sure the powders do not get burnt. Otherwise, the filling will not turn out well. If you fear that it will burn, just add a little bit more oil.
6. Throw in the minced chicken, diced tomato and potato and stir well till chicken and tomato are well cooked.
7. Now to make the 'epok epok', cut out a round pastry approximately the size of the curry puff mould you are using and place it in the centre of the mould.
8. Fill the pastry with 2 tsp of chicken and potato filling and clamp the mould together to seal the two edges of the pastry. Repeat the same with the rest of the pastry till you finish up the filling.
9. Preheat the oven to 180 degree Celsius.
10. Line a baking tray with tracing paper and place the curry puffs on the tray neatly.
11. Brush the top of each curry puff with a bit of the beaten egg mixture. This is to give the puffs a glazy and nice look.
12. Bake the curry puffs for approximately 5 to 7 minutes and then dish them out with chilli sauce of your choice.