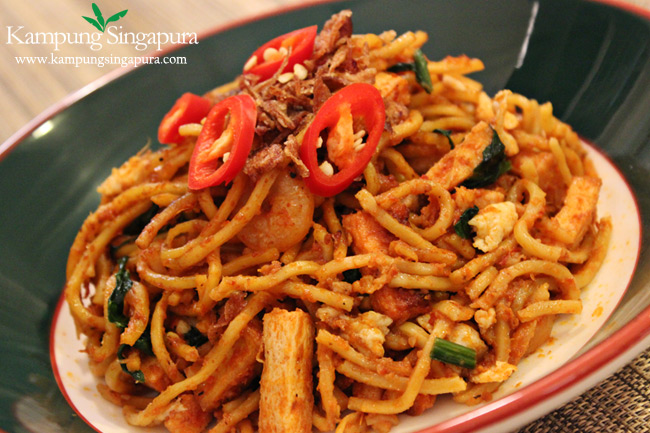 View Recipe Details Below

Mee Goreng is also home to Indonesia and has many variations. 'Mee' basically refers to noodles and 'Goreng' is stir fry. My all time favourite is the Indian Muslim Mamak Mee Goreng. No others can match up to this one. This is just my personal opinion though. I am a huge fan of noodle dishes and when I am home, not a week goes by without me eating this dish. My favourite hawker is located in the kopitiam (food court/ hawker centre) just behind Ang Mo Kio library. There is only one Indian Muslim stall there and the uncle makes the best mee goreng mamak ever. When my husband and I were dating before marriage, that used to be our frequent dining place. We can visit all the posh restaurants in the world but nothing can beat the feeling of dining in a hawker centre. It is a whole different experience that my husband and I truly cherish.
This recipe that I have is from two of my maternal aunties. I proclaim them both as the mee goreng experts. I hope you will enjoy making it. It is a bit tedious. However, the effort surely pays off at the end. I have to admit it took me countless trials before I got the right balance in taste and texture. The first time I made it, my noodles were completely undercooked and my sambal just did not have at 'ah ha' impact. I was so used to the noodles in Singapore and not to the ones here so was not sure where I went wrong. Thankfully, my aunt decided to visit me and so she showed me the right ingredients to buy and made me watch her with hawk eyes while she cooked it.
Mamak Mee Goreng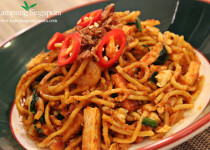 Prep Time:

30 minutes

Cook time:

40 minutes

Yield:

For 10

Rating:
Ingredients:
Instructions:
Boil the dry chillies in hot water for five minutes or till you see the chillies appearing al dente. Strain the water and remove any remaining seeds. Otherwise you will feel your stomach burning when eating the noodles.
Using a blender, blend the chillies, tomatoes, onions, garlic, ginger, belacan with ½ a cup of water first. Add more water if you find it difficult to blend. However, this amount should suffice.
Once the paste is very smooth and thick (be careful because we do not want a runny sambal), add the fried anchovies. Just one or two quick blends making sure the coarseness of the anchovies is retained.
Switch your stove on and get your wok ready. Add 1/3 cup of oil. Once oil is heated, add in the sambal, salt according to taste and on a medium fire cook the sambal covered for approximately 30 minutes. Cooking time varies depending on individual's stove. My sambal usually finishes cooking in 20 minutes. You know your sambal is cooked when the oil separates and floats on top of the chilli paste.
While the sambal is cooking, heat a small frying pan with oil and fry the fish cake, tofu, chicken and eggs each separately and keep them aside to be added later.
 Once sambal is cooked, add the noodles making sure they are well mixed with the sambal and on a slow fire, cover the wok and let the noodles cook through. The noodles will expand during the cooking process. This should take about 10 minutes.
Finally, add all the fried ingredients and the spinach and mix through.
Taste for salt. If you feel it is not enough, add soy sauce accordingly. I usually add it in because I feel it gives a richer taste to the mee goreng.
 If you like your mee goreng to be a tad sweet, you may add tomato sauce.
Voila mee goreng ready to be eaten. Garnish it with green shallots, lime wedges and sliced red chillies with tomato sauce on the side. :-)
Tips
* Grinding the Sambal
The reason why we only give the cooked anchovies two quick blends is because it lifts the flavour of your mee goreng to a whole new level compared to when ground finely. Not many add fried anchovies into the sambal but this is the secret ingredient to a delicious mee goreng.

Be careful to ensure sambal is not too watery. The key to getting the perfect mee goreng lies in your sambal. If it is too watery, your mee goreng can turn soggy.