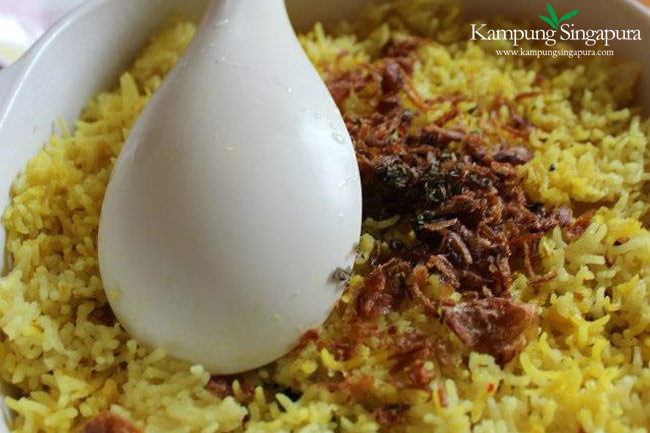 View Recipe Details Below

"Nasi Kuning" also often referred to as "Nasi Kunyit" is a yellow coconut rice originally from Java, Indonesia. It is also a popular dish in Singapore and Malaysia usually served for special occassions such as weddings because it is seen as a symbol of royalty, prosperity and dignity. In Singapore and Malaysia, this dish is very common in the Malay households. It is also my husband's personal favourite.  Food galore begins at home on Friday nights and never ends till Sunday. This rice dish is a common one that I make almost every month. The recipe that I have chosen is adapted from Ketut Budi of Payuk Bali. His is by far the best Nasi Kunyit I have ever tried and so I prefer to share this one over others. Enjoy making it! =)
Nasi Kuning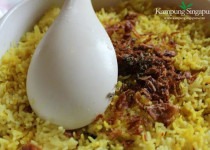 Prep Time:

10 minutes

Cook time:

20 minutes

Rating:
Ingredients:
Instructions:
1. Wash and soak rice for 30 minutes.
2. Mix rice with hot water, coconut milk, bay leaf, kaffir lime leaves, pandan leaves, lemongrass and salt to taste.
3. Switch on your rice cooker and wait for the aroma to waft through your house. Garnish with fresh coriander leaves and/or fried shallots
Tips
 My maternal aunt taught me a way to test whether there is enough salt in the rice. Just take 1/2 spoonful of the water/coconut mixture and taste it. If there is enough salt, then you can be rest assured that the rice will turn out tasting perfect. If it is less, the taste of hot water will be more so you know you need to add in more salt.
The same aunt (she is a cooking genius!) also encouarges me to tear the pandan leaves into halves when cooking with rice or desserts. By doing so, their botanical fragrance get released more into the dishes and enhance the flavour immensely.