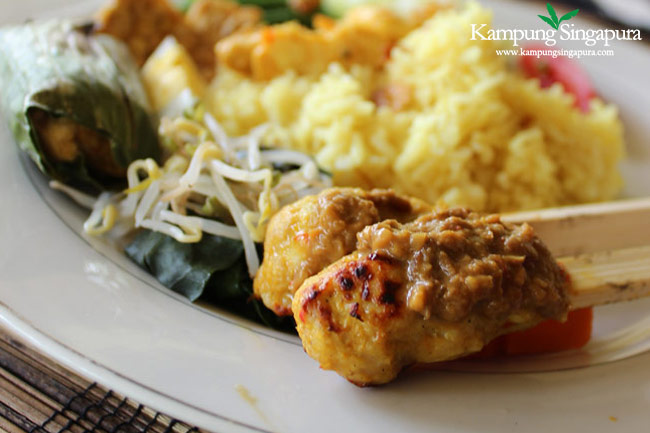 The term "Sate" in Bahasa Indonesia is the same as "Satay" that is more often used in Singapore and Malaysia.  It is a very popular street dish and is probably one of the most loved food in the whole of South East Asia. In Singapore, the Malay uncles usually set up small charcoal fire pits outside the hawker centres and sprook the satays to passers-by. The sheer joy in watching them fan the smoke off and the gorgeous aroma of the satays wafting through are to die for.
The Resep Sate Ayam Lilit in Bali consists of minced, diced or sliced meat (most often chicken or mutton) threaded on bamboo skewers, grilled over charcoal fire and usually served with a peanut dipping sauce. In restaurants, it is often accompanied by cucumber and onion slices along with rice cakes. In Singapore, the three popular types of satay are "Satay Ayam" (chicken), "Satay Kambing" (mutton) and "Satay Lembu" (beef). The types of satay made differs from country to country in South East Asia. The ones that we get from Singapore and Malaysia tend to be sweeter and the ones in Indonesia more spicy. For today's post, I am giving the recipe to the Balinese "Sate Lilit". It is very different to the one that I am used to in Singapore. Nevertheless, the taste is just amazing. This is another one of Ketut's (from Payuk Bali) famous recipes. Do try it at home and you will not be let down. =)
Sate Lilit
Prep Time:

15 minutes

Cook time:

10 minutes

Rating:
Ingredients:
Instructions:
1. Dice the chicken fillet and blend it using a blender. The original recipe calls for minced chicken. I tried it a home but found it to be very difficult to wrap around the bamboo stick as it was too slippery. The blended one which was not too minced stuck to the skewers firmly.
2. Mix the blended chicken fillet with all the other ingredients, season with salt and pepper.
3. Wrap the mixture around a bamboo stick and knead it nicely into shape.
2. Place skewers on a hot plate or grill. It should finish cooking in 5 - 10 minutes depending on the thickness of the chicken.