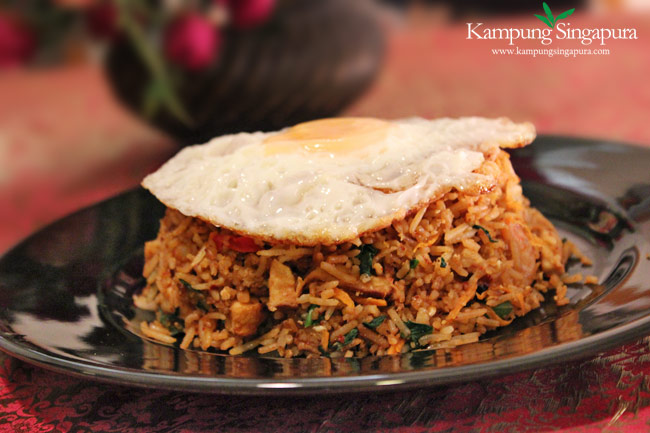 I have chosen to provide my maternal aunt's famous Nasi Goreng recipe as my first post. 'Nasi' refers to rice and 'goreng' refers to stir fried. So in English, we refer to it simply as 'stir-fried' rice. It is the national dish of Indonesia and also happens to be one of Singapore's local delights. There are many variations to it but my favourite is this one. No matter which restaurant I go to, I cannot find a nasi goreng that can match my aunt's. This version is always a hit with my friends here as well. It is such an easy dish to make as well. When you feel really tired, you can dish this up in a jiffy.
This is also the first dish that I tried when I first came which reminds me of a joke that is still being shared and laughed about. My mum and my younger sister had followed me to help me settle in. My husband-then boyfriend and another friend who were here 6 months before me showed us around the supermarket. I confidently said I can cook the best nasi goreng (so much arrogance!) picked some random dry chillies and used 50 of them to make my sambal paste. It is a real miracle everyone survived and did not come after me. They were forced to eat it with tears in their eyes and kept throwing smiles my way as they did not want to hurt my feelings. I will never forget that disastrous attempt and the looks on all their faces. Anyway after several trials and tribulations (yes it indeed take numerous attempts!), I can safely say I have perfected the nasi goreng recipe. So you need not fear, you can completely trust my recipe.

Nasi Goreng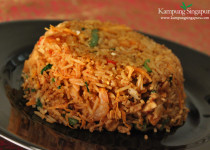 Authentic Singaporean/Malaysian Nasi Goreng Recipe
Ingredients:
Instructions:
Roast the dried chillies, anchovies and belacan in 2 tbsp oil for a few seconds till the flavour comes out. Ensure that the chillies do not get burnt.
Once the chillies, anchovies and belacan have cooled, using a mortar and pestle or a mini grinder, blend them till fine and powdery. Keep the mixture aside.
On a wok, add the remaining 4tbsp oil, sauté the onions till they are golden brown.
Add the ginger/garlic paste and continue sautéing
Add in the cooked prawns, fishcake, chicken and salt. Keep stirring continuously until all the ingredients are cooked through
Add in the rice and using the back of a wooden spoon, break the clumps in the rice
Next, stir in the ground chilli/anchovies mixture to the rice making sure everything is well-blended with the rice
Once that is done, make a well in the middle of the wok, pushing the rice to the sides. Add in a bit of oil and stir fry the beaten eggs quickly. Keep stirring it like how you would when making scrambled eggs until its well cooked and mix it with the rice.
Taste for salt at this stage and if its not enough, add a bit of light soy sauce.
Add in the spinach last and voila your nasi goreng is ready to be dished out :-)
 Garnish it with fried shallots and sliced cucumbers. In the food courts and hawker centres, they usually serve it with tomato sauce and lime for a sweet acidic taste.
* Cooking Rice
The best rice for nasi goreng is Basmati as it gives the grainy texture which is the trademark for nasi goreng.
When cooking rice, always ensure that you wash it at least 4 to 5 times till the water runs clear. This process prevents the grains from sticking together later when cooking.
Soak the rice for at least 30 minutes before cooking it. Your rice will be softer, fluffier in texture and elongated in appearance. Have a look at the photo of the difference between soaked and unsoaked cooked basmati rice.
When cooking rice, always add boiled hot water and not cold water. You will find your rice tasting significantly more delicious.
For nasi goreng, we always chill the rice before stir frying it because it is meant to be firm.
* Oil
When I was staying with my husband and his sister during uni days, their parents visited once. They own a hawker stall in Singapore so needless to say, they are both great chefs. I watched my husband's mother on the 'sly' as she cooked because she was not willing to share trade secrets naturally. Each time I tried her nasi goreng, it had the 'ooopmh' and I finally solved the secret to the puzzle! It is the use of Indian gingelly oil (also known as sesame or till oil) over any other cooking oil. I doubt you will find any nasi goreng recipe mentioning the use of gingelly oil but trust me it tastes super fantastic!
* Spinach
We add the spinach last because it releases a lot of water and when added before the rice, there is a greater tendency for the nasi goreng to become soggy.