Today, I made 'Roti Jala' for which I posted the recipe earlier and was thinking which curry will go well. Give me chicken anytime as I am not really a fan of mutton and lamb. However, Hasan loves lamb curry and because I was in a nice mood, I decided to pamper him. Mutton curry is the one that usually goes with 'Roti Jala' but it is hard to get mutton on the coast so I always settle for lamb.
The way we make our curries in Singapore/Malaysia differs a lot from the way it is done in India. I have observed in the Indian restaurants here where they add coconut milk and sugar in their curries which give them a rich sweet flavour. I prefer my curries to be spicy and I really love the ones my paternal grandmother makes. She is the mutton/chicken curry expert. Every time I go back home, without fail she'll invite me over to her place and will have a big pot of curry all for me. You must be thinking by now that I must be a real glutton after reading my posts. I am just a real foodie.

When I went back this Feb, I brought Hasan with him and he got to taste her mutton curry for the first time and he went 'oooh lala'.

So, trust me you will definitely fall in love with this lamb curry once you have made it.

Indian Lamb Curry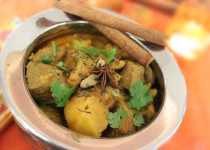 Prep Time:

15 minutes

Cook time:

55 minutes

Rating:
Ingredients:
Instructions:
Wash the lamb pieces cleanly to rinse off any blood. Add the turmeric powder and coat the lamb pieces evenly with it. Let it rest for 15 minutes. Rinse it off after that. Turmeric is usually seen as a starter ingredient and not many know that it can be used to reduce the stench that can be overpowering sometimes in meats.
Heat a large saucepan on medium heat. Add ghee and cooking oil.
Once the oil starts spluttering, add cinnamon sticks, cloves, cardamoms, star anise. Do not overcook the spices as they tend to get burnt easily and this can cause a bitterness to your curry.
Once you see the cinnamon stick unfold, add in the green chillies, coriander and mint leaves and stiry fry for a few seconds till the aroma wafts through.
Add the onions and saute till they turn golden brown in colour.
Add the ginger/garlic paste and saute till the raw smell goes off.
Throw in the tomatoes, potatoes and the lamb pieces. Stir with the other ingredients and mix well so that the pieces are coated with the oil/ghee.
Add the meat curry powder and chilli powder. Stir to coat the lamb pieces with the powders and let it cook for 2 minutes. Check constantly to make sure the powder does not burn.
Add the measured amount of boiled hot water to the saucepan. Never ever add cold tap water to your curry. It destroys the flavour and unequalises the cooking process.
Lower the heat slightly and cook the curry covered for 40 minutes. Mine takes quite long as I use an electric stove.
After 40 minutes, check on the lamb. Hasan and I prefer our lamb pieces to be soft and tender that come off easily. Others may prefer it to be a bit hard so you may just need 30 minutes to cook your lamb.
Just before you switch the stove off and remove your saucepan with the curry, add the yoghurt in. Give it a stir and let it cook for 1-2 minutes in the curry. The reason why we add the yoghurt last is because of its tendency to curdle quickly.
Curry ready to be dished out. Garnish with curry leaves. :-)