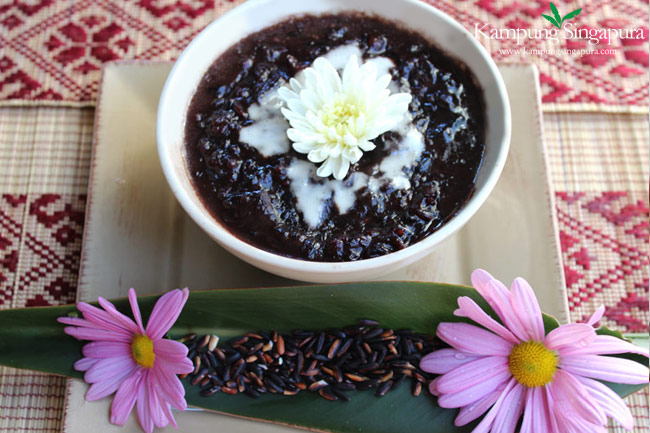 View Recipe Details Below

"Bubur Pulut Hitam" refers to Black Glutinous Rice porridge. It is a very popular dessert in Singapore and Malaysia made with black glutinous rice, coconut milk and palm sugar. However, you will find variations to the dessert in other parts of South East Asia as well. For an example in China, the black glutinous rice is used to make sweet dumplings called "tangyuan". In Philippines, they have "Ginataan" similar to Bubur Pulut Hitam but it has other ingredients such as jackfruits, sweet potatoes and sago pearls. Likewise, in Laos, it is called "Khao Tom". In Korea, black glutinous rice is used to make rice cakes referred to as "chalddeok". (Source:Wikipedia)
Black Glutinuous rice is often referred to as "sticky rice", "sweet rice" or "waxy rice" (Source:Wikipedia). 85% of Asia specialise in cultivating this rice. It is an unpolished grain belonging to a short grain variety It is dark purple in colour and the hues become more noticeable once the rice starts cooking. It is also known to contain numerous health benefits. It is a rich source of vitamins, minerals and has a high amount of fibre (Source:CanopyAvenue).. This is one of the reasons why it is eaten as a staple dish in Laos.
This recipe is from my maternal aunt yet again. She is the Queen of Asian desserts to me at least. This version is one of Hasan's and my personal favourites too. Usually I will cook dinner and serve this for dessert but he will literally beg me for the Bubur Pulut Hitam first and in the process of eating it, the dinner gets forgotten. =)
Bubur Hitam
Prep Time:

10 minutes

Cook time:

50 minutes

Yield:

6-8

Rating:
Ingredients:
Instructions:
Wash the rice thoroughly.
Drain and place the rice in a saucepan filled with 5 cups of water and the knotted pandan leaves. The pandan leaves give fragrance and flavour to the dessert.
Bring it to boil first and then lower the heat to let it simmer. Stir in between 6 minute intervals to make sure the rice does not stick to the pan and the water level does not reduce too much. You are aiming at a not too thick and at the same time not too thin consistency.
Meanwhile, heat another saucepan, combine the gula melaka with the remaining 1 cup of water and stir on low heat till the sugar dissovles completely and you can see a thick syrup forming.
Check on your black glutinous rice. It is cooked when the rice looks soft and plump.
Add the gula melaka mixture and coconut milk and give it two stirs. Bubur Pulut Hitam ready to be served =)
*You may garnish it with dessicated coconut. I usually prefer to have more coconut milk by my side and add it in when I am eating the dessert.