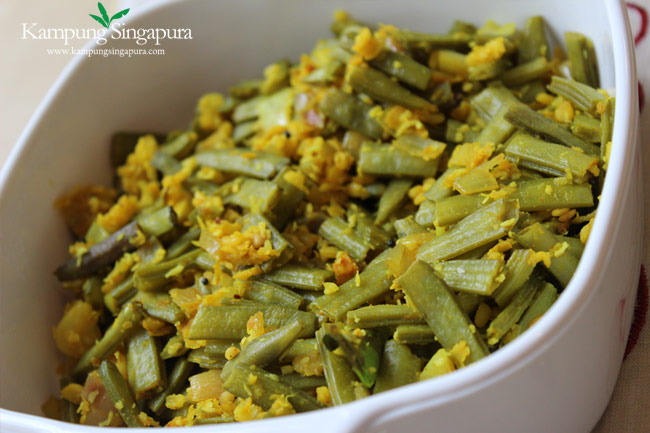 View Recipe Details Below

I remember mentioning the South Indian Thali meal briefly in my post on 'Tiffin Sambar'. A South Indian Vegetarian Thali meal traditionally consists of rice and five to seven side dishes in small servings, yoghurt, pickles and papadam. The dish is commonly served in a large steel plate known as 'thali' with the rice in the center and the side dishes on separate small steel bowls placed around the steel plate. When the waiter brings it out to you in a restaurant, the gorgeous sight of it is just a feast for the eyes.

Recently, I have been just craving for the side dishes served in the thali and I thought of making this 'Cluster Beans Usili' which is a common accompaniment dish for a thali. Cluster Beans is also known as 'Guar'. 'Usili' refers to scrambled or fried lentils. It is a very versatile dish and you may swap the cluster beans with any other vegetables. It is also known to be very healthy and nutritious for the body. This recipe I have is my creation out of my endless experiments yet again. I am a perfectionist for taste and till I get that taste, I do not give up. I think I got this one right. You tell me if I did.

Cluster Beans Usili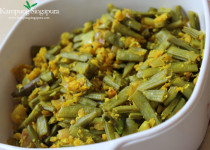 Prep Time:

10 minutes

Cook time:

15 minutes

Yield:

2-4

Rating:
Ingredients:
Instructions:
Wash mung dhal thoroughly in water till water runs clear.
Heat a stove, add the boiled hot water and boil the cluster beans and mung dhal together till cooked. Be careful not to overcook the mung dhal. You want to retain its shape.
In a separate frying pan, add the measured amount of coconut cooking oil, and saute the ingredients for tempering accordingly in order.
Add, the chilli, cumin and coriander powders and stir to mix well. Be careful not to burn the powders.
Drain the cluster beans and mung dhal in a colander and add them to the frying pan.
Toss in the dessicated coconut and give the dish one last stir before removing it from the stove. :-)